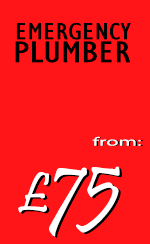 24 HOUR
PLUMBER
Do you require a 24 hour plumber, someone available to assist you at anytime?
Thames Plumbers is available 24 hours during the whole week, Monday to Sunday, to suit you with any plumbing issue.

All of our 24 hours plumbers are greatly taught to satisfy in a very professional way all clients' plumbing urgencies: Thames Plumbers Plumbers are quick, friendly, plumbing experts and honest.

We are leader in the plumbing sector and this is why you can be ensured by the well-spoke name of our company.